MotoGP | Bastianini super motivato: "Parto per vincere? Certo!"
Il pilota riminese non ha mostrato timori reverenziali al suo arrivo nella squadra ufficiale Ducati: anche se dividerà il box con il campione del mondo Pecco Bagnaia, il suo obiettivo è di battagliare al vertice e non ci ha girato intorno quando ne ha parlato oggi alla presentazione della Desmosedici GP23.
E' il nuovo arrivato nel team campione del mondo, ma non sembra intenzionato ad entrare in punta di piedi. Sicuramente Enea Bastianini riconosce a Pecco Bagnaia il fatto di essere il campione del mondo e quindi il leader naturale della Ducati. Tuttavia, nei suoi piano c'è la voglia di lottare al vertice, ma non potrebbe essere diversamente, visto che parliamo di un pilota che lo scorso anno si è piazzato terzo nel Mondiale ed ha vinto 4 Gran Premi. Anche per lui quindi l'asticella non può che essere alta, anche se c'è da adattarsi ad una realtà e ad una moto completamente nuova.
L'anno scorso in alcune occasioni sei stato aggressivo in pista con Bagnaia. Il tuo approccio cambierà quest'anno che siete compagni o sarà sempre lo stesso?
"L'approccio è sempre stato lo stesso e sarà lo stesso. Ma non credo di essere stato aggressivo con Pecco, credo. Ho sempre e solo provato a fare la mia gara. Ora è il mio compagno di squadra, è il campione del mondo, ma sarà ancora così. Per prima cosa bisogna vedere dalla situazione: se sono davanti io, se è davanti lui, se ci sono altri piloti in mezzo. Sono tante le variabili. Al momento, quello che penso è solo cercare di fare del mio meglio. Parto per vincere? Certo!".
Nadia Gresini diceva che hai bisogno di non avere pressione e loro sono stati bravi a fartene sentire il meno possibile. Ora sei in un team ufficiale, quindi la pressione aumenta. Gli hai già detto di non stressarti troppo o fa parte anche di un processo di crescita?
"Sicuramente fa anche parte di un processo di crescita, ma se dovessi vedere che è tanta gli dirò: 'calma e vediamo di risolvere'. Dove sono cresciuto, nel Gresini Racing, c'era una filosofia diversa da quella che c'è nel team factory, ma mi sono adattato subito alla nuova squadra a partire dai test. Le persone con cui ho lavorato sono fantastiche, quindi non sono preoccupato".
Enea Bastianini, Ducati Team
Photo by: Ducati Corse
L'anno scorso gli altri piloti della Ducati dicevano che Pecco faceva la differenza soprattutto in frenata, la vedi così anche tu? Ed, eventualmente, è difficile replicare questa sua frenata?
"Pecco frena molto forte, ma è sempre stata la sua peculiarità da quando correvamo in Moto3. Credo che sarà sempre così, perché lui è forte su quell'aspetto. Ma io sono forte in entrata di curva, Martin lo è in uscita, Zarco è forte nei tornantini. Ci sono tanti stili diversi, ma comunque è il nostro bello, perché abbiamo una moto che lavora bene con tutti. Credo che il pacchetto sia completo e che queste nostre peculiarità resteranno invariate".
Pensi che ci sia un pilota che possa patire più di altri l'avvento delle Sprint Race?
"Si può fare una previsione, ma potrebbe anche non essere quella giusta. Ecco, io che per adesso nei primi giri facevo... Non davo il massimo diciamo (ride), magari vi stupisco, quindi vediamo".
A maggior ragione è importante partire davanti e la qualifica magari è ancora un po' un tuo punto debole...
"Diciamo che è un punto debole che ho colmato con il passare del tempo, perché nelle ultime gare sono sempre partito davanti, quindi devo solo cercare di mantenere la stessa filosofia. Ma diciamo che con la moto del 2019 era anche complicato fare delle belle qualifiche...".
Ti preoccupano di più le Sprint Race o l'assenza nel box del tuo ex capo tecnico Alberto Giribuola?
"Con Pigiamino (Giribuola) avevo instaurato un bellissimo rapporto, però dovrò farlo anche con Marco (Rigamonti, il nuovo capo tecnico). Credo che sarà una cosa che verrà spontaneamente durante l'arco delle gare. Ma la penso uguale anche per la Sprint Race, quindi diciamo che mi preoccupano e non mi preoccupano tutte e due".
Enea Bastianini, Ducati Team
Photo by: Ducati Corse
Per la Sprint Race avete cambiato la preparazione? Come sarà il vostro approccio?
"Ogni volta provo a migliorare durante l'inverno per provare qualcosa di diverso, ma l'allenamento resta lo stesso. Ma è importante essere al 100%, perché ci alleniamo con il motocross e bisogna restare concentrati perché può essere pericoloso. Inoltre più ti alleni e più c'è possibilità di cadere. Bisogna salvaguardare il fisico per il campionato e penso che la prima Sprint Race sarà un test per tutti. Il mio approccio sarà diverso, ma credo che sia lo stesso per tutti. Potremo parlare con Alvaro Bautista perché lui ha esperienza in questo senso. Ma la cosa più importante è provare a trovare il feeling dal sabato già da Portimao".
Ti dà fastidio quando dicono che la Ducati è la moto migliore?
"No, perché penso che lo sia. Non ho provato le altre, però penso che sia così. Questo non vuol dire che le altre facciano ridere. Sicuramente sono delle moto competitive e il livello è talmente alto che a fare la differenza sono i dettagli. In questo Ducati per ora è un passo avanti".
Cosa pensi che proverai ad arrivare al Mugello, al Gran Premio d'Italia, da pilota Ducati?
"Sarà bello vedere la tribuna Ducati, perché ne farò parte anche io ed è una soddisfazione molto grossa. Purtroppo il Mugello non è mai stata una gara troppo fortunata per me, perché mi è sempre successo qualcosa. Speriamo che quest'anno cambi il trend".
Ma non c'è proprio niente che ti preoccupa a diventare un pilota ufficiale?
"No, forse le interviste (ride). Siete già di più rispetto all'anno scorso, però a parte quello non mi preoccupa niente".
Enea Bastianini, Ducati Team
Photo by: Ducati Corse
Arrivi a dividere il box con Pecco Bagnaia, come lo descriveresti?
"La grande differenza è che Pecco è campione del mondo e io no (ride). Penso che lui sia molto veloce da quando siamo piccoli. Combattiamo dalla MiniGP, in Moto3, poi in Moto2 no. Ma è un talento e ora è il pilota più veloce del mondo. E' un piacere combattere con lui quest'anno per provare a vincere".
Recentemente hai detto di vedere Marc Marquez come il favorito. Potresti spiegare perché?
"Per me Marc è Marc, ha vinto otto titoli e sarà al 100%, perché anche nella seconda parte della scorsa stagione è migliorato ed era veloce. Penso che sarà molto difficile combattere con lui, ma credo che abbiamo il potenziale per affrontarlo. La Ducati è una moto molto veloce, il team factory ha un gran potenziale, che dovrò capire durante i test. Ma non c'è solo Marc, ci sono Pecco, Quartararo, Martin, Mir. Ci sono tanti nomi, ma vedremo durante la stagione, perché anche il format sarà diverso e sarà importante arrivare forti il sabato. Bisognerà cambiare un po' l'approccio".
Passi su una nuova Ducati con un nuovo team, pensi sia più facile adattarsi alla nuova moto o alla nuova squadra?
"Il primo impatto con la moto del 2023 è stato buono. Credo che saremo molto vicini e nei prossimi test proveremo delle parti nuove. Ma la differenza maggiore è stata quando sono passato dalla 2019 alla 2021. Lì ho capito il potenziale della Ducati. Avrò un nuovo capo tecnico nel box, a Valencia ci siamo trovati bene. Sappiamo che durante la stagione potranno arrivare dei problemi, ma devo restare concentrato sul mio obiettivo. È importante godersi ogni momento, stare insieme e credo che l'approccio nel team ufficiale sarà un po' diverso, Pecco lo sa bene. Ma non sono nervoso, sono solo motivato e super carico".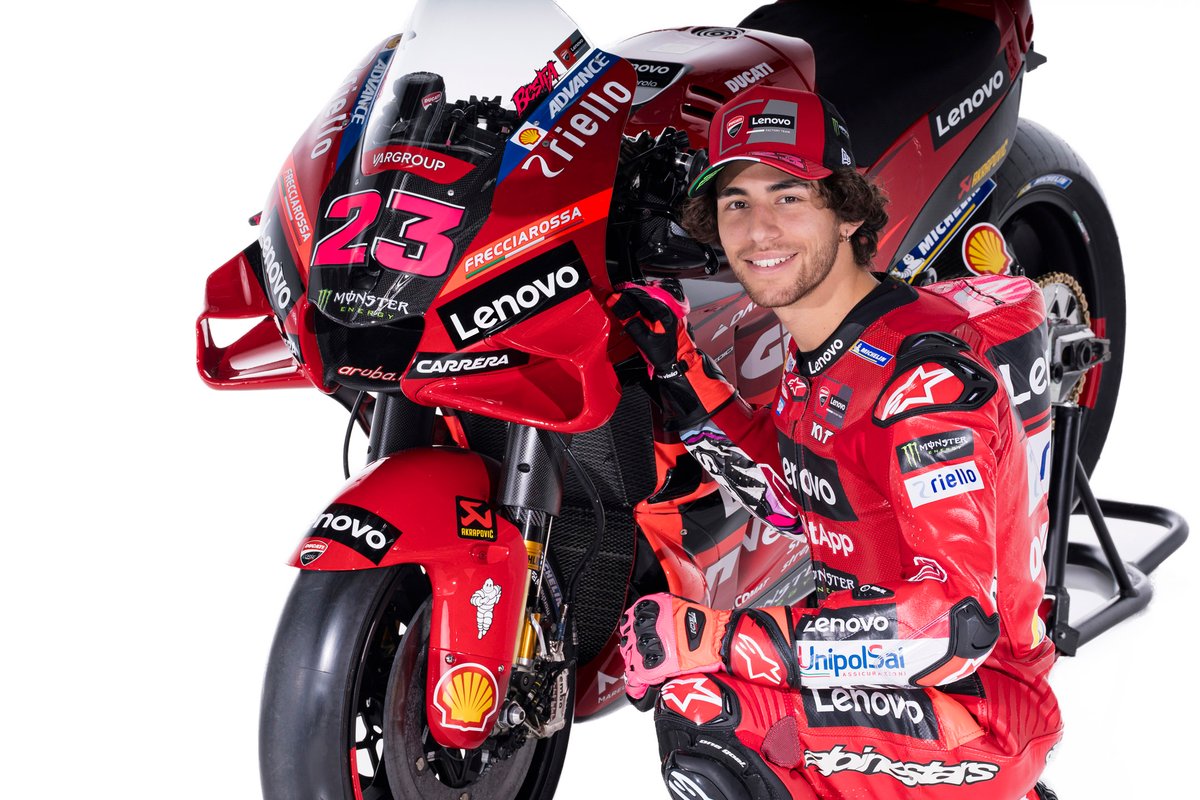 Enea Bastianini, Ducati Team
Photo by: Ducati Corse
Subscribe and access Motorsport.com with your ad-blocker.
From Formula 1 to MotoGP we report straight from the paddock because we love our sport, just like you. In order to keep delivering our expert journalism, our website uses advertising. Still, we want to give you the opportunity to enjoy an ad-free and tracker-free website and to continue using your adblocker.
Become a subscriber.
Disable your adblocker.