Marcel Steiner: "Nessuno vorrebbe vincere una gara con un lutto"
Il pilota bernese mette il titolo nel mirino dopo la quinta manche stagionale delle Salite svizzere, interrotta a Oberhallau dall'incidente mortale di Martin Wittwer. Eric Berguerand secondo davanti all'austriaco Lampert. A Gurnigel discorso finale per la corona.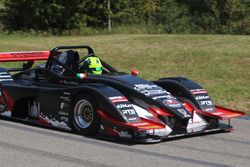 "Il risultato finale è ovviamente buono, ma non è proprio la vittoria che sognavo", poche e chiare le parole di Marcel Steiner al termine della corsa di Velocità in Salita a Oberhallau, interrotta per lo schianto mortale di Martin Wittwer.
Marcel Steiner non è nuovo a provare questo tipo di negative emozioni. Già nel 2004, si aggiudicò la corsa nella quale perse la vita un pilota alla guida di una VW Polo. Ma non è finita qui. La Sainte Ursanne-Les Rangiers del 2010, contrassegnata dalla morte di Lionel Régal, vide imporsi ancora lo scalatore bernese.
Al di là della logica tristezza, Marcel ha meritato l'ennesimo successo stagionale, anche se non nasconde un briciolo di amarezza per i due tempi ottenuti in altrettante manche al volante della propria LobArt-Mugen motorizzata Mugen V8 da tre litri. "1'09''5 è chiaramente meglio del 1'09''08 ottenuto nella prima tornata. Per realizzarlo, ho comunque dovuto spingere al limite nelle prime curve subito dopo lo start".
Buona la performance di Berguerand (Lola-Cosworth), il quale non è riuscito a trovare il giusto feeling sui pendii di Oberhallau. "Non mi sono trovato a mio agio nella prima corsa e la seconda è stata addirittura peggio. Ho mancato una marcia il che mi ha fatto perdere parecchia velocità alla curva Tarzan".
Una terza manche perfetta avrebbe potuto far ribaltare la situazione al campione in carica. Eric vede portarsi a 27,5 i punti che lo separano da Steiner. A tal proposito sembra potersi rivelarsi decisiva la scelta di Berguerand di non correre a Saint Ursanne. 
La palla passa quindi in mano a Steiner, che il prossimo 10 settembre a Gurnigel avrà l'occasione di mettere più di una mano sul titolo e poterlo festeggiare, come da desiderio, davanti al pubblico amico della cronoscalata Châtel Saint Denis–Les Paccots.
La medaglia di bronzo nella classifica generale è andata a Christoph Lampert, austriaco del Vorarlberg, sulla propria Osella PA2000 Evo, una vettura biposto motorizzata Honda. Il pilota "ospite" ha saputo assumere un discreto vantaggio dalle Formula 3000 fin dalla prima tornata del mattino.
Al volante della Reynard 97D-Mugen, Simon Hugentobler non ha saputo fare meglio del risultato ottenuto la scorsa stagione. Quest'ultimo è stato comunque veloce quanto basta per chiudere quarto assoluto e secondo nella Classe E2-SS-3000, a oltre otto secondi e mezzo da Eric Berguerand.
Alcuni problemi nelle prove non hanno frenato la voglia di fare bene di Amweg con la Lola B99/50-Cosworth, portata sulle Salite del Canton Sciaffusa con meno litri nel serbatoio rispetto agli avversari per evitare danni. Thomas ha chiuso la prima vera corsa in Formula 3000 come quinto di Classe, dimostrando di possedere un potenziale interessante in vista della prossima stagione.
Robin Faustini, reduce da un ottimo terzo posto ad Anzère dietro a Steiner e Berguerand, si è dovuto accontentare della settima posizione assoluta alla guida della "anziana" Reynard 92D a motore Ford. "Con una vettura vecchia e con dei pneumatici utilizzati era quasi impossibile fare meglio", ha ammesso il pilota teenager. 
Per quanto riguarda le monoposto da 2.000 di cilindrata, Christian Balmer (Tatuus-Honda) resta nuovamente imbattuto.
"Appena ho potuto modificare gli ammortizzatori, montati a suo tempo dalla Jenzer Motorsport, ho cominciato a notare un aumento delle prestazioni notevole".
Nuovi guai invece per Marcel Maurer, costretto a combattere con le noie tecniche che colpiscono ripetitivamente la Tatuus-Renault.
Oberhallau - Classifica completa (Scratch)
Oberhallau - Classifica Classi E2 e CN
Swiss Hillclimb Championship - standings after 5 rounds
Subscribe and access Motorsport.com with your ad-blocker.
From Formula 1 to MotoGP we report straight from the paddock because we love our sport, just like you. In order to keep delivering our expert journalism, our website uses advertising. Still, we want to give you the opportunity to enjoy an ad-free and tracker-free website and to continue using your adblocker.
Become a subscriber.
Disable your adblocker.