Pari e patta tra Romain Febvre e Tim Gajser nel GP di Francia
Il francese vince la seconda manche e quindi si prende il gradino più alto del podio. Gajser comunque non si può lamentare, visto che non ha perso punti nei confronti del rivale ed ora c'è una gara in meno da disputare.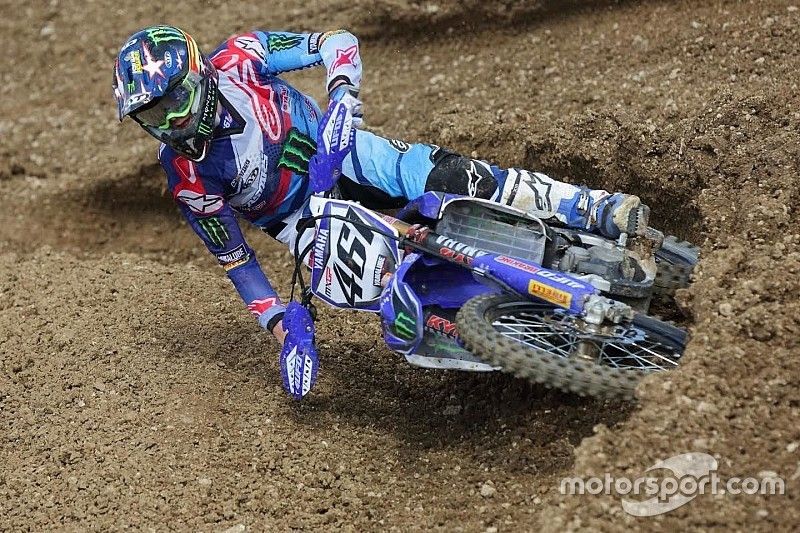 In Francia, sede del decimo appuntamento del Mondiale MXGP 2016, il duello fra Tim Gajser e Romain Febvre era attesissimo dal numeroso e caloroso pubblico francese. Infatti, i colpi di scena non sono mancati ad iniziare dalle qualifiche dove un Gautier Paulin (Honda HRC) sembrava essere tornato ai livelli dello scorso anno.
Paulin stava vincendo quando, a due giri dalla fine, è caduto in discesa perdendo anche i sensi per qualche secondo. Immediatamente soccorso, il francese ha subito un forte colpo all'occhio destro ed il GP, il suo GP, è finito in quel momento. Peccato perché Paulin sarebbe stato un sicuro protagonista nelle due gare della domenica.
Detto questo, torniamo al duello Gajser – Febvre che ha animato l'intero week end.
Gara uno ha visto Romain Febvre cercare di scappare ma a cinque giri dalla fine, gli è piombato addosso Gajser che lo ha passato su salto ad una velocità fuori dal comune. Sembrava fatta per lo sloveno dell'HRC, ma Febvre non ci ha messo molto a riprenderlo e a quel punto, è iniziato un duello terminato solo al traguardo con Gajser che ha preceduto il Campione del Mondo in carica per soli sei centesimi.
Sulla via del ritorno verso il Paddock, il volto di Febvre era scurissimo. Di sicuro non ha digerito la sconfitta e, prontamente, si è rifatto nella seconda manche dove ha lasciato il comando dei giochi a Gajser per soli due giri. Come in gara uno, inizia un duello fra due ma proprio nel momento di massimo attacco da parte di Gajser a Febvre, un sasso ha colpito la mano dello sloveno che ha dovuto rallentare ed accontentarsi del secondo posto.
Si può dire che hanno finito alla pari con un primo ed un secondo a testa, ma in virtù della vittoria di gara due, Febvre vince il GP davanti al suo pubblico. Nessun rammarico però per Gajser, anzi probabilmente è quello che fra i due ci guadagna di più perché: non ha perso punti – ha mantenuto la red plate e con un GP in meno da disputare.
Il terzo gradino del podio è di Evgeny Bobryshev mentre il nostro Antonio Cairoli, nonostante il quarto posto nella overall, torna a casa deluso ed arrabbiato perché troppe cose non sono andate come avrebbe voluto a cominciare dalle troppe cadute ma anche dai tanti piccoli errori commessi.
Clement Desalle si prende la quinta piazza a dimostrazione che sta tornando nelle posizioni che contano. Si rivede Glen Coldenhoff nella parte alta della classifica, suo infatti è il sesto posto (miglior piazzamento stagionale) proprio davanti a Valentin Guillod buon settimo assoluto.
Delude in parte Max Nagl che ha sempre dovuto rimontare a causa di partenze poco brillanti ma ha come scusante, un virus che lo ha debilitato per tutto il fine settimana. Jordi Tixier è nono e precede un ottimo Dennis Ullrich in decima posizione.
GP SPAGNA - CLASSIFICA MXGP
 1° Romain Febvre (Francia – Yamaha) 47; 2° Tim Gajser (Slovenia - Honda) 47 punti; 3° Evgeny Bobryshev ( Russia - Honda) 38; 4° ° Antonio Cairoli (Italia – KTM); 5° Clement Desalle (Belgio – Kawasaki); 6° Glen Coldenhoff (Olanda KTM) 28; 7° Valentin Guillod (Svizzera – Yamaha) 28; 8° Max Nagl (Germania - Husqvarna) 25; 9° Jordi Tixier (Francia Kawasaki); 10° Dennis Ullrich (Germania – KTM) 21.
CLASSIFICA CAMPIONATO MXGP
1° Tim Gajser (Slovenia - Honda) 432; 2° Romain Febvre (Francia - Yamaha) 408 punti; 3° Antonio Cairoli (Italia – KTM) 372; 4° Max Nagl (Germania - Husqvarna) 342; 5° Evgeny Bobryshev ( Russia Honda) 333; 6° Jeremy Van Horeebek (Belgio – Yamaha) 293; 7° Shaun Simpson (Inghilterra - KTM) 210; 8° Valentin Guillod (Svizzera – Yamaha) 208; 9° Kevin Strijbos (Belgio - Suzuki) 204; 10° Glen Coldenhoff (Olanda KTM) 184.
Subscribe and access Motorsport.com with your ad-blocker.
From Formula 1 to MotoGP we report straight from the paddock because we love our sport, just like you. In order to keep delivering our expert journalism, our website uses advertising. Still, we want to give you the opportunity to enjoy an ad-free and tracker-free website and to continue using your adblocker.
Become a subscriber.
Disable your adblocker.