Rueda - Saravia e Di Amato - Montermini si impongono al Paul Ricard
Nella prima gara del weekend successo per l'equipaggio della BMW del Teo Martin Motorsport, mentre la seconda corsa ha visto il duo del team RS Racing imporsi in un finale decisamente avvincente.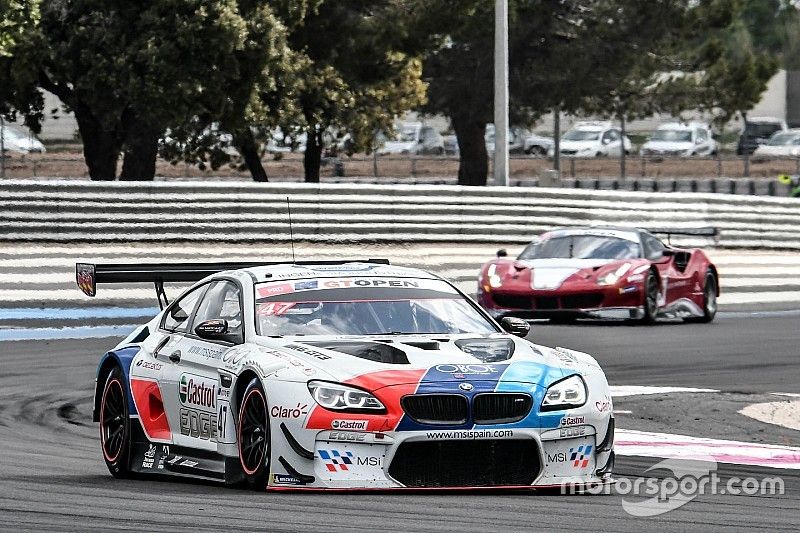 Il BMW Team Teo Martín conquista la prima vittoria dell'anno al Circuit Paul Ricard in una Gara 1 molto movimentata, che si è conclusa dietro la safey-car a causa di un forte scroscio di acqua nelle tornate finali. La pioggia non ha tuttavia cambiato la morfologia dell'evento, con Fran Rueda ed Andrés Saravia che hanno dominato sin dal via con la loro BMW M6. Eccellente seconda la Lamborghini di Ombra Racing con Damiano Fioravanti-Fernando Rees, davanti alla Ferrari di casa Luzich Racing, con Marco Cioci-Mikkel Mac alla guida, ed il danese ora leader solitario del campionato.

Valentin Pierburg-Tom Onslow Cole, sulla loro Mercedes, regalano ad SPS Performance il secondo successo in Pro-Am della stagione, davanti a Rugolo-West (Luzich Ferrari) e Crestani-Ramos (Lazarus Lambo). Nella Am, Alex Hrachowina-Martin Konrad colgono la prima vittoria dell'anno con la HTP/MS Mercedes, davanti a Basso-Marques (Teo Martín BMW) e Borlenghi-Lewandowski (VSR Lambo). 
Al via, con qualche goccia di pioggia, Rugolo mantiene il vantaggio della pole position, ma c'è confusione alla prima curva, con un contatto di Montermini che manda in testacoda la Lamborghini di Breukers. Poco dopo, un aggressivo Rueda prende il comando, con la BMW che passa così al comando alla fine del primo giro, precedendo Rugolo, Cioci, Fioravanti, Montermini, Perel, Hahn e Mul. Al terzo giro Perel sopravanza Montermini per il quinto posto, mentre in vetta Rueda allunga il distacco a 2"2 sul gruppo degli inseguitori.

Hahn e Beirao arrivano al contatto nel quinto passaggio, all'interno di un animato gruppo con Crestani, Giammaria, Costantini e Costa, in lotta per la settima posizione. Un giro dopo Montermini rientra a cambiare una gomma, mentre Cioci sopravanza Rugolo per la seconda piazza. Anche Perel soffia il quarto posto a Fioravanti. Crestani, Giammaria e Beirao si instaurano dalla settima alla nona piazza, mentre Hahn mantiene il decimo posto prima di finire largo e cedere la posizione a Costantini e Breukers, oltre ad un contatto con Costa, che ne avrà poi la meglio. 

Al comando, Cioci chiude il divario con Rueda, fino a quando gli arriverà negli specchietti nel corso del tredicesimo passaggio, quando si apre la pit-lane per il cambio pilota ed i due entrano in scia, lasciando la leadership ad un ispirato Perel, che ha anche la meglio su Rugolo in rettifilo. Dopo i cambi, al ventesimo giro Saravia conduce con 12 secondi su West, e 15 su Rees, inseguiti da Mac, Alvarez, Venturini, Kogay, Onslow-Cole, Liang e Ramos. Grande battaglia nelle retrovie tra le Lamborghini in lotta per il nono posto: Ling, Liang, Agostini e Di Folco. Le Mercedes di Hellmeister e Jäger sono anche protagoniste di una battaglia in famiglia per la 12° piazza.

Nelle posizioni di vertice, Saravia ha un confortevole vantaggio, 18 secondi, su Rees, salito al secondo posto, e sulle Ferrari di Mac e West, inseguito da Alvarez. Al 27° giro, con quindici minuti rimanenti, la pioggia ha iniziato a cadere sul circuito.
Al giro 27, con 15 minuti rimanenti, inizia ad arrivare qualche scroscio di pioggia, mentre Venturini si ferma in pista a causa di un problema di pressione al sistema di distribuzione della benzina. Poco dopo l'arrivo prepotente della pioggia, costringe l'intervento della safety-car sino alla fine della corsa.
La seconda gara del weekend ha visto il trionfo di Di Amato e Montermini bravi ad imporsi, al volante della Ferrari del team RS Racing, in un finale di gara concitato.
In partenza Jager ha mantenuto la prima posizione mentre alle sue spalle si è subito assistito ad un duello tra  Saravia e  Mac per la seconda piazza seguiti da Di Amato, Alvarez, Venturini, Hellmeister, Onslow-Cole e  Sowery.
Al decimo giro Jager poteva vantare un margine di quasi 3 secondi sugli inseguitori, ma il gruppo alle sue spalle era racchiuso in otto secondi.
Effettuate le soste obbligatorie Plachutta ha preso il comando delle operazioni seguito da Beirão, Montermini, Rueda, Hahn, Fioravanti, Cipriani e  Cioci ed al ventunesimo giro Beirao e Montermini, dopo aver sopravanzato Plachutta, hanno iniziato una grande battaglia per il primo posto con Rueda bravo a rimontare terzo.
Due tornate dopo Plachutta è stato costretto al ritiro, mentre nei minuti finali Montermini è riuscito ad approfittare di una indecisione di Beirao per prendere la prima piazza e resistere alla pressione delle due BMW alle sue spalle.
Bravo Fioravanti a salire in terza posizione davanti a Mac ed Hahn, con quest'ultimo leader in Pro-Am nonostante una penalità di 5 secondi. In Am vittoria per Konopka.
Subscribe and access Motorsport.com with your ad-blocker.
From Formula 1 to MotoGP we report straight from the paddock because we love our sport, just like you. In order to keep delivering our expert journalism, our website uses advertising. Still, we want to give you the opportunity to enjoy an ad-free and tracker-free website and to continue using your adblocker.
Become a subscriber.
Disable your adblocker.