La Solaris Motorsport al via del GT Open con Sini e Calamia
La squadra italiana schiererà una Aston Martin Vantage GT3 affidandola al confermatissimo Francesco Sini, al quale viene affiancato lo svizzero Mauro Calamia per formare una coppia inedita.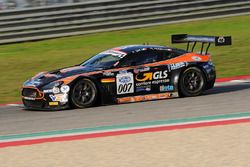 Dopo il podio conquistato nell'ultimo appuntamento di Barcellona, la Solaris Motorsport conferma anche per il 2017 il suo impegno nell'International GT Open, dove schiererà una Aston Martin Vantage GT3 per l'inedito duo composto dall'italiano Francesco Sini e dallo svizzero Mauro Calamia. Grazie agli ottimi risultati ottenuti nel 2016, anche in questa stagione la squadra abruzzese sarà Partner Team di Aston Martin Racing, proseguendo la stretta collaborazione con lo storico marchio inglese iniziata 12 mesi fa.
Francesco Sini, al secondo anno con l'Aston Martin della squadra italiana, è raggiante: "Non vedo l'ora di poter tornare su un palcoscenico europeo! Dopo il titolo 2014 vinto con la Solaris nell'EuroV8 Series, mi è un po' mancata la possibilità di correre sulle più belle piste europee. Abbiamo assaggiato il GT Open lo scorso anno nel round di chiusura a Barcellona, cogliendo il terzo posto in Gara 2, e ci è piaciuto talmente tanto che abbiamo subito cominciato a lavorare per poter essere presenti quest'anno con un programma full season!" ha commentato Sini, che in bacheca può vantare anche il titolo di Campione 2008 della Radical Master Series e quello 2007 dell' Italian Prototype Series. "Sono davvero contento di poter dividere la mia Aston Martin con Mauro, è un ragazzo giovane, molto veloce ma soprattutto ha già un'ottima esperienza sui circuiti internazionali. Sono carichissimo e pronto a cominciare!"
25 anni, svizzero di Laupen, Mauro Calamia ha mosso i primi passi nel motorsport con le monoposto, in un crescendo che lo ha visto partecipare alla stagione 2012 di Formula 2. A partire dal 2013, Calamia è passato alle ruote coperte, cogliendo subito ottimi risultati con vetture Gran Turismo. Già nel 2014 lo svizzero ha centrato il titolo mondiale del Trofeo Maserati, in una straordinaria stagione che lo ha visto portare a casa anche il Trofeo Europa, il Pirelli Pole Position Award e il Trofeo Under 30 del campionato della marca modenese. Nel 2016 Calamia ha partecipato alla 12 ore di Abu Dhabi, dove ha conquistato il terzo gradino del podio: "Sono davvero felice di essere entrato nella famiglia Solaris Motorsport. Non vedo l'ora di cominciare questa nuova avventura! Dovrò prendere le misure alla macchina, ma sono sicuro che con Francesco potremo puntare in alto. Da parte mia farò di tutto per portare la vettura il più avanti possibile, avere la possibilità di correre in un Aston Martin Racing Team Partner mi rende molto fiero e mi carica a mille per questa nuova avventura! - ha commentato il giovane pilota svizzero - Sono sicuro di essere nel team giusto e con il compagno di squadra giusto per poter fare bene in questa stagione!"
"Dopo due anni nella serie italiana sentivamo il bisogno di affrontare una nuova sfida, confrontarci su un palcoscenico europeo con i migliori avversari possibili. - sono le parole di Roberto Sini, che con i figli Francesco e Laura tiene il timone della Solaris Motorsport - Il podio ottenuto a Barcellona ci ha motivato ancor di più ad affrontare questa nuova avventura e siamo felici di poterlo fare con una vettura, l'Aston Martin GT3, che lo scorso anno si è dimostrata molto competitiva. Abbiamo un anno di esperienza in più, Francesco saprà indirizzare il talento di Mauro nel trovare gli ultimi decimi, aiutando così tutta la squadra a crescere il più rapidamente possibile. Non sarà facile, l'International GT Open è una serie in grande crescita e troveremo ottimi avversari, ma questo è il tipo di sfide che piacciono ai ragazzi della Solaris Motorsport."
L'International GT Open è la serie europea per vetture GT3 promossa dalla GT Sport di Jesus Pareja. Il campionato prenderà il via nel weekend del 29-30 aprile sul circuito portoghese dell'Estoril e toccherà poi i circuiti continentali più affascinanti e ricchi di storia, molti dei quali teatro delle più belle gare della Formula 1. Il 27-28 maggio sarà il turno dello storico circuito belga di Spa Francorchamps, che lascerà poi il testimone al tracciato francese del Paul Ricard la seconda settimana di giugno. Un mese più tardi l'Aston Martin della Solaris Motorsport sarà impegnata in Ungheria, sul tracciato dell'Hungaroring l'1 e 2 luglio. Al termine della pausa estiva l'appuntamento è fissato in Inghilterra il 2 e 3 settembre sullo storico tracciato di Silverstone, mentre il 30 settembre è in programma la tappa italiana nel tempio della velocità di Monza. Gran finale in Spagna, il 28 e 29 ottobre, con l'ultimo round fissato a Barcellona.
Subscribe and access Motorsport.com with your ad-blocker.
From Formula 1 to MotoGP we report straight from the paddock because we love our sport, just like you. In order to keep delivering our expert journalism, our website uses advertising. Still, we want to give you the opportunity to enjoy an ad-free and tracker-free website and to continue using your adblocker.
Become a subscriber.
Disable your adblocker.