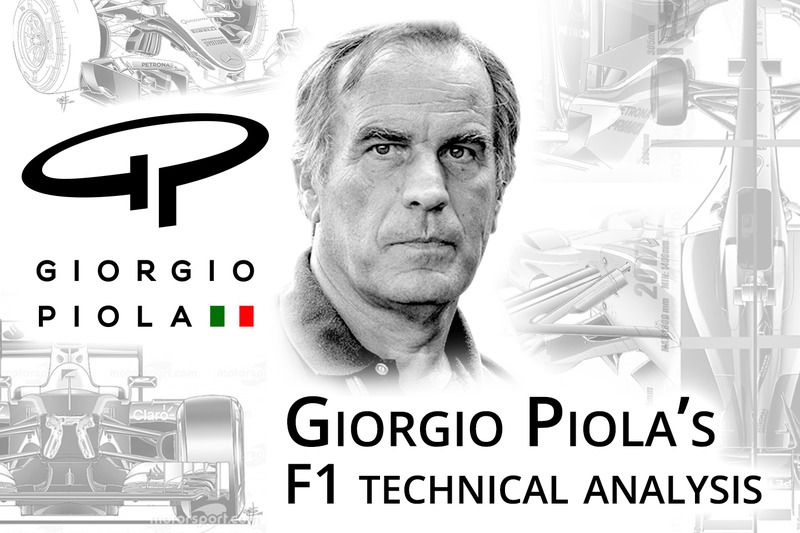 Topic
F.1 analisi tecnica di Giorgio Piola
F1 | Aston Martin AMR23: c'è la fantasia al potere
La squadra di Silverstone nel primo GP stagionale ha introdotto una curiosità interessante: alla base della paratia laterale dell'ala posteriore è comparso all'esterno un flap orizzontale che non si è mai visto. I tecnici, leggendo con mentalità aperta il regolamento tecnico che definisce le aree in cui si può lavorare con dei volumi, hanno trovato un'area nella quale è possibile aggiungere un elemento utile ad aumentare il carico.
L'Aston Martin è la monoposto del momento: Fernando Alonso ha messo la sorprendente AMR23 davanti a tutti alla conclusione delle prove libere del venerdì, dimostrando un potenziale che va ben oltre l'aspettativa di lottare per lottare il quarto posto nel mondiale Costruttori.
Certo, la "verdona" avrà spinto la power unit Mercedes con una mappatura piuttosto estrema, ma è indubbio che la prestazione della monoposto del team di Silverstone è corroborata anche da un ottimo long run, segno che c'è molta sostanza dietro alla… sparata del campione spagnolo.
Dan Fallows, direttore tecnico del team Aston Martin F1
Photo by: Zak Mauger / Motorsport Images
Lo abbiamo ripetuto più volte: la fantasia di Dan Fallows nello sviluppare concetti aerodinamici interessanti e il pragmatismo di Luca Furbatto, tecnico molto bravo nel definire la parte meccanica di una vettura, hanno portato a un mix di soluzioni tecniche stanno attirando l'attenzione di tutto il paddock sulla AMR23 a prescindere dai risultati in pista.
Va evidenziato che, a differenza della precedente gestione di Andy Green tendenzialmente votata a copiare quanto di meglio ci fosse sul mercato, la coppia Fallows-Furbatto porta avanti i propri concetti. La AMR ha certamente sorpreso alla presentazione per disporre della fiancata che nella parte superiore è più scavata: se quella della Ferrari SF-23 è una "vasca dei pesci", quella dell'Aston Martin è una… piscina.
Aston Martin AMR23: ecco lo scivolo superiore della pancia che alimenta l'effetto Coanda
Photo by: Giorgio Piola
Il flusso che passa sopra alla pancia scende sul fondo con uno scivolo tanto pronunciato che non si era visto nemmeno ai tempi degli scarichi soffianti, quando si sfruttava l'effetto Coanda. La Mercedes ha miniaturizzato le pance anche con la W14, ma l'assenza di una carrozzeria che tenga lontane le turbolenze della ruota anteriore al corpo vettura forse penalizza la freccia nera, mentre la "verdona" ci offre la… murata esterna della pancia frutto di un accurato studio non solo aerodinamico.
L'Aston Martin, infatti, associa un vistoso scasso sotto alle bocche dei radiatori che permette un effetto down wash del flusso sotto ai sidepod, allo scivolo superiore perché l'impianto di raffreddamento è stato ben ripartito e non è stato concentrato solo nelle fiancate.
Aston Martin AMR 23: ecco il radiatore centrale che ha liberato le pance
Photo by: Giorgio Piola
Furbatto è un sostenitore del radiatore centrale sul motore che ha aperto alla configurazione aerodinamica più estrema. Il gruppo tecnico Aston Martin mostra anche un'effervescenza di idee nell'interpretare le regole: l'anno scorso era stata presentata un'ala posteriore che riproponeva la classica paratia laterale che sigillava il profilo principale, mentre la FIA non voleva che si gestisse la scia. E non a caso la soluzione è stata vietata per il 2023.
Aston Martin AMR22: la discussa paratia laterale dell'ala posteriore che è stata vietata nel 2023
Photo by: Giorgio Piola
In Bahrain abbiamo potuto osservare un'altra curiosità e riguarda ancora una volta la paratia laterale dell'ala posteriore. Questa volta la novità è stata introdotta nella parte esterna più bassa: nella curvatura dell'endplate è stato montato un piccolo flap leggermente incurvato verso l'alto che permette di aumentare il carico senza incrementare troppo la resistenza all'avanzamento.
Nel regolamento che definisce gli spazi di lavoro con dei volumi, gli ingegneri di Silverstone hanno trovato il modo di aggiungere un piccolo elemento aerodinamico dove non si era ancora visto.
Subscribe and access Motorsport.com with your ad-blocker.
From Formula 1 to MotoGP we report straight from the paddock because we love our sport, just like you. In order to keep delivering our expert journalism, our website uses advertising. Still, we want to give you the opportunity to enjoy an ad-free and tracker-free website and to continue using your adblocker.
Become a subscriber.
Disable your adblocker.