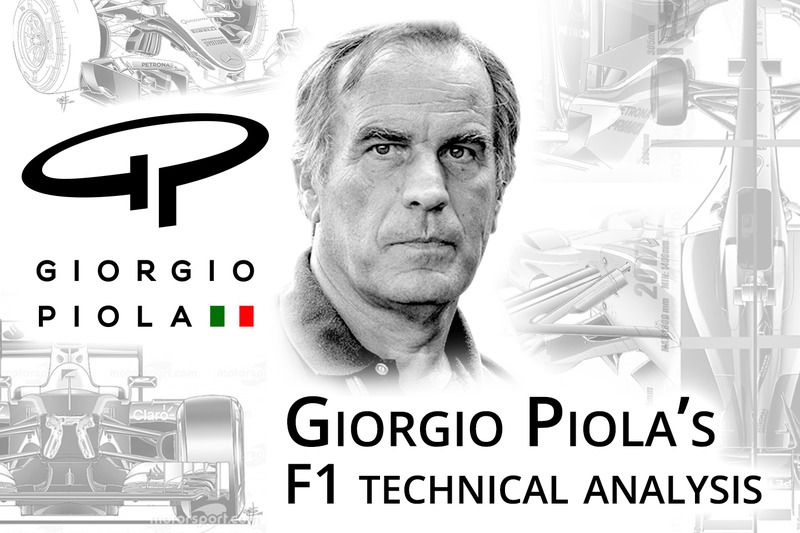 Topic
F.1 analisi tecnica di Giorgio Piola
F1 | Alfa Romeo: la C43 ha indossato la... sottoveste nera!
Ecco una bella immagine che ci mostra la monoposto di Hinwil con la seconda pelle che copre tutta la meccanica del retrotreno per migliorare la fluido-dinamica all'interno delle pance, favorendo l'estrazione del calore a favore di un'aerodinamica più efficiente. Gli aerodinamici del "biscione" hanno curato anche la zona della sospensione anteriore per valorizzare l'effetto down-wash dei flussi in una zona del telaio dove c'è alta pressione.
L'Alfa Romeo è considerata una monoposto con delle soluzioni raffinate e ha acceso delle aspettative sulla squadra del "biscione".
La C43 curata da Jan Monchaux è attesa a un miglioramento rispetto al piazzamento al sesto posto nel mondiale Costruttori ottenuto l'anno scorso dalla squadra di Hinwil. Il debutto in qualifica nel GP del Bahrain, per ora, non ha dato questa impressione con Valtteri Bottas, 13esimo, subito davanti a Guanyu Zhou.
La monoposto elvetica è risultato l'ottava forza, anche se in un midfield molto competitivo con quattro squadre racchiuse in pochissimi decimi. La differenza può averla fatta forse il livello di preparazione (dopo appena tre giorni di test pre-stagionali) più che l'effettiva soglia di competitività.
Osservando la C43 emerge come la ricerca dell'efficienza aerodinamica possa scontrarsi con la battaglia per il calo del peso. Va riconosciuto che l'Alfa Romeo già lo scorso anno, al debutto delle monoposto a effetto suolo, era stata l'unica F1 capace di arrivare al limite di 798 kg, mentre le vetture più blasonate (Red Bull e Mercedes erano quasi 20 kg più pesanti del minimo) eccedevano.
La vettura di Valtteri Bottas, Alfa Romeo C43, in pitlane
Photo by: Mark Sutton / Motorsport Images
I tecnici Sauber sono stati bravi nell'andare sotto il peso minimo per poter posizionare della zavorra nei punti nevralgici della monoposto per cercare il miglior bilanciamento, ma si sono concessi anche la possibilità concedere più che qualche grammo all'efficienza della fluido dinamica all'interno delle pance e più in generale all'impianto di raffreddamento della power unit Ferrari 066/7.
L'Alfa Romeo, infatti, ha indossato una bella "sottoveste" nera. Niente di sexy, sia chiaro, ma una seconda pelle in carbonio che permette di isolare la parte meccanica dall'andamento dei flussi, affinché l'estrazione del calore possa avvenire nel modo più funzionale all'aerodinamica. Non si tratta di un'esclusiva, perché tutti stanno lavorando in questa direzione, ma si può apprezzare la qualità della ricerca.
Alfa Romeo C43: ecco la power unit Ferrari 066/7 visibile senza la sottoveste in carbonio
Photo by: Giorgio Piola
Ieri avevamo pubblicato un'immagine di Giorgio Piola che mostrava il retrotreno della C43… nudo e avevamo messo in risalto la cura che era stata messa nel packaging fra telaio e power unit, constatando come non ci fosse lo spazio per un centesimo fra un accessorio e l'altro e fra tubi, condotti e cavetti.
La risposta la troviamo in questa seconda immagine di Piola che mostra l'estrema pulizia della carrozzeria interna della C43 che è una sorta di seconda pelle che veste la meccanica: non c'è più un particolare a vista, segno che l'intenzione è di creare un canale d'aria quanto più pulito sia possibile per ridurre la resistenza all'avanzamento della monoposto.
Alfa Romeo C43: la vistosa cover in carbonio apparsa in Bahrain che permette l'effetto down-wash dei flussi
Se l'anno scorso l'Alfa Romeo si era fatta apprezzare per le doti meccanici della C42, quest'anno c'è stato un tentativo di fare un salto nella conformazione aerodinamica. Un altro esempio lo abbiamo potuto osservare nell'anteriore con l'effetto down-wash dei flussi che si è cercato sagomando con una cover in carbonio il telaio ai lati dei bracci della sospensione.
Alfa Romeo C43: la cover della sospensione anteriore che è in stile Mercedes
Photo by: Giorgio Piola
In una zona dove c'è alta pressione si è cercato di far scendere l'aria per energizzare il flusso verso il fondo alla ricerca di una maggiore downforce. L'idea è stata lanciata dalla Mercedes sulla W13 dello scorso anno e i tecnici di Mike Elliott l'hanno sviluppata sulla freccia nera di quest'anno. Lo stesso concetto è stato interpretato a Hinwil, segno che quella è un'area interessante di sviluppo.
Subscribe and access Motorsport.com with your ad-blocker.
From Formula 1 to MotoGP we report straight from the paddock because we love our sport, just like you. In order to keep delivering our expert journalism, our website uses advertising. Still, we want to give you the opportunity to enjoy an ad-free and tracker-free website and to continue using your adblocker.
Become a subscriber.
Disable your adblocker.