Topic
Vivi con Peugeot il CIR
Il personaggio Peugeot - Marco Passaniti: il rapporto con Paolo e Anna
Il rapporto con Paolo Andreucci e Anna Andreussi è un tema sul quale ogni personaggio Peugeot ne sta raccontando di cotte e di crude. Marco Passaniti non è certo da meno...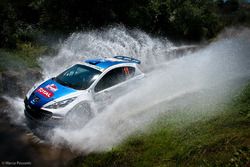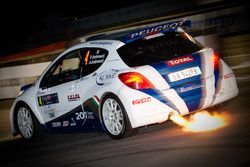 Paolo Andreucci è... Paolo Andreucci! Nel corso dei precedenti appuntamenti, attraverso i racconti dei personaggi Peugeot abbiamo imparato che dire Andreucci Paolo significa dire perfezione, pignoleria, professionismo, ma anche - a gara finita - simpatia e buon umore in dosi da Comic Show!
Quando Paolo e Anna sono arrivati in Peugeot nel 2009 io facevo parte della squadra già da 6 anni abbondanti e ricordo che il mio primo pensiero è stato dai, ora ci si diverte un bel po'! E così è stato, anche se ero e resto comunque affezionato anche a Luca Rossetti. Avere la possibilità di essere il fotografo ufficiale di un pilota che ha vinto nove campionati italiani rally regala soddisfazioni, tante. Al Rally San Marino del 2009 durante lo shakedown mi aspettavo un salto, ma Paolo non lo fece e vedendomi mi fece un cenno con la mano per scherzare sul fatto che non avesse voluto saltare. Andreucci è un pilota che in gara non vuole distrazioni e la fotografia a volte può diventarlo per lui. Negli anni, però, mi ha dato completa fiducia e ora vuole che sia presente anche in momenti delicati durante i quali in pochissimi possono esserci e fino a qualche anno fa non avrei mai potuto presenziare. Uno su tutti la scelta delle gomme. Ma Paolo è anche lo showman che a gara finita innalza l'umore di tutti con i suoi racconti e le sue storie. Io dico sempre che è un comico mancato...

Marco Passaniti
A fare da parafulmine al carattere di Paolo, che spesso può sembrare scontroso anche se la sua è solo una forma di concentrazione che qualche volta può sfociare nel perfezionismo, ci pensa Anna Andreussi. Sua compagna di vettura e soprattutto di vita, ha capito perfettamente come gestire le gare, i tifosi, i giornalisti, i fotografi. Anna è una navigatrice completa, una figura che si integra perfettamente e che completa quella di Paolo.
Anna è sempre disponibilissima e mi permette di fare sempre foto molto belle e particolari. Quando ho qualche richiesta fa di tutto per aiutarmi. Solo una volta l'ho vista molto tesa: eravamo al Rally Targa Florio di quest'anno e ho visto Anna molto concentrata, quasi scura in volto, in quel momento ho deciso di farmi da parte e non chiederle nulla. Il nostro lavoro è anche mettersi in un angolo senza dare fastidio. Il fattore psicologico è molto importante in questo tipo di gare e rispettare i propri ruoli è fondamentale, soprattutto in momenti critici e delicati. In Peugeot Sport Italia questa filosofia l'hanno sposata tutti nel migliore dei modi

Marco Passaniti
Anna Andreussi con la piccola Viola, Peugeot Sport Italia
Subscribe and access Motorsport.com with your ad-blocker.
From Formula 1 to MotoGP we report straight from the paddock because we love our sport, just like you. In order to keep delivering our expert journalism, our website uses advertising. Still, we want to give you the opportunity to enjoy an ad-free and tracker-free website and to continue using your adblocker.
Become a subscriber.
Disable your adblocker.