Merzouga Rally: Oriol Mena beffa Botturi per 7" nella quinta tappa
L'italiano pensava di aver vinto la tappa e stava già festeggiando, ma dopo mezz'ora lo spagnolo lo ha scavalcato davvero di un soffio. De Soultrait amministra la leadership con il terzo posto di tappa.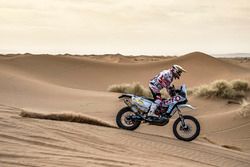 Oriol Mena vince la sua prima tappa in un rally raid, oggi all'Afriquia Merzouga Rally, in Marocco, organizzato da ASO. Il pilota spagnolo con la sua Honda ha battuto Alessandro Botturi per soli 7 secondi e Xavier De Soultrai di 26". Distacchi minimi al termine di una tappa meno difficile di quelle dei giorni precedenti.
Quando Alessandro Botturi arriva al bivacco al termine della quinta tappa dell'Afriquia Merzouga Rally è ancora convinto di aver vinto la tappa. Lo festeggiano al team, e lui condivide subito con gli amici su Facebook la soddisfazione di aver vinto almeno una tappa dell'Afriquia Merzouga Rally 2017. "Una vittoria di tappa da morale" scrive il bresciano, ma invece, mezz'ora dopo, sul traguardo si presenta lo spagnolo Oriol Mena (Honda) e la vittoria della tappa passa nelle sue mani per soli sette secondi.
Ma non importa, "Bottu" è comunque soddisfatto e racconta la sua tappa, la seconda parte dell'unica marathon del rally, iniziata ieri: "Ho navigato bene – inizia Botturi – dopo la partenza sono andato subito a riprendere Metge e Mario Patrao che partivano davanti a me (Metge alle 7,12, Patrao alle 7,15 e Botturi alle 7,18) e poi ho proseguito per la mia strada, da solo. Volevo vincere la tappa. Sono stato sempre da solo perchè a me piace molto navigare".
E per assurdo il pilota di Lumezzane confessa: "Quando sono con gli altri faccio fatica a navigare, perchè mi tolgono concentrazione. Anche oggi per esempio, negli ultimi chilometri mi ha ripreso Adrien Metge e mi ha superato mentre io stavo navigando e mi ha creato qualche difficoltà perchè mi ha confuso le idee. Il percorso era bello navigato anche oggi, ma un po' meno rispetto ai giorni scorsi. Ieri credo sia stata in assoluto la tappa più difficile di tutto il Merzouga Rally. E infatti io ho fatto un errore davvero grosso e ho perso 10 minuti. Oggi ho cercato di recuperare quello che potevo e questo risultato mi aiuta e mi tira su il morale".
Niente tempesta di sabbia oggi finalmente sui piloti del Merzouga, ma Botturi non è certo uno che si fa spaventare dal vento di sabbia: "Indubbiamente ieri la tempesta ha portato un bel po' di confusione al bivacco, ma io non sono uno che si preoccupa. Ho dormito benissimo lo stesso questa notte" e se la ride.
Al termine della gara manca solo una tappa e domani l'essere arrivato davanti oggi non servirà a Botturi perchè per l'ultima tappa è prevista una partenza in linea: "Sì – conferma l'ex endurista – domani si parte tutti insieme e non mi dispiace, è divertente. Però mi spiace invece perchè ai fini della classifica non si potrà tentare nulla, ormai è delineata e non c'è spazio per recuperare. Domani non sarà una tappa di un rally" conclude Bottu e in effetti domani sarà quasi un enduro, con una speciale da 50 chilometri tracciata sulle dune e denominata appunto 'GP des dunes'.
Si tratta di una classica del Merzouga Rally ma Marc Coma – direttore sportivo della Dakar e del Merzouga - ha tirato fuori qualche cosa di nuovo dal suo cappello a cilindro e bisognerà aspettare il breifing di stasera per saperne di più.
Subscribe and access Motorsport.com with your ad-blocker.
From Formula 1 to MotoGP we report straight from the paddock because we love our sport, just like you. In order to keep delivering our expert journalism, our website uses advertising. Still, we want to give you the opportunity to enjoy an ad-free and tracker-free website and to continue using your adblocker.
Become a subscriber.
Disable your adblocker.